Top Ten Reasons Gary Hall Jr. Belongs on CBS's Survivor
'Kay, it's light... it's dishy... it's just what I need today and this week in general! Besides, I promised y'all this a LONG TIME AGO, didn't I!
The new
Survivor
is premiering this week
(Survivor: Guatemala),
and that means I'll be glued to it, chardonnay in one hand and remote in the other. There's no one I'd rather see on a Celebrity
Survivor
than Olympian Gary Hall Jr. Do you know how many searches I get on this blog for "Gary Hall's penis?" More than I care to count! Erm, I'm RELATIVELY sure that said object could be found.... INSIDE OF GARY HALL'S SPEEDO.
Here are my top ten reasons he should go on the show:
10) We already know he looks FAB in a swimsuit~
9) And the camera loves him!
(Barbasol commercial,
anyone? The proceeds went to JDRF)
8) Water challenges are just a GIMME.
7) Doesn't take NO for an answer. After his diagnosis with Type 1 Diabetes in 1999, Gary was told he'd never swim competitively again. In Sydney he won an individual gold in the 50 meter freestyle, sharing it with his teammate and training partner at Berkeley, Anthony Ervin. He also won gold and silver in the relays and the bronze medal in the 100 meter freestyle. And who else watched him take away the 50 m gold in Athens in 2004?
6) Wouldn't hesitate to give up some or all of his winnings to
his favorite cause.
5) Hidden talent: Boxing.
4) Familiar with the Face-the-Elements thing: "[After diagnosis, and being told I'd never swim again] I packed up my insulin, my needles, my dog and girlfriend and headed south. I gathered as much information as I could before leaving. It was in Costa Rica that I did a lot of reading, and it was there that I began to have a better understanding of what diabetes was all about. I often times felt destructive. When these feelings came about I would calm myself by swimming in shark-infested waters, hoping for the worst. More than once the sharks would bump me from the break of a wave. Then I would return to my bungalow and learn more." (From CNN-SI)
4) Already knows how to
spearfish.
3) Plays guitar, surfs, rides a Harley, owns a purple VW microbus and has GREAT taste in music: "There is a song by 'The Clash' that states, 'I've been beat up, I've been thrown out, but I'm not down'. And that's me." ~Gary Hall Jr.
2) A great role model for our kids (tests 10-12 times per day, 12-15 times on competition days; injects insulin 6-12 times per day to maintain super-tight control).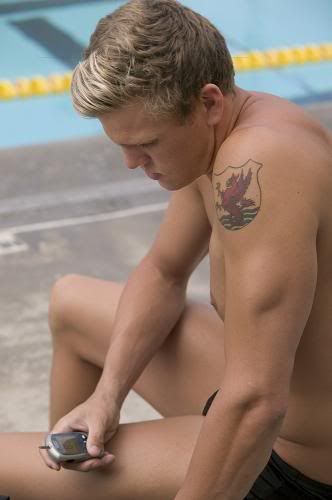 And the #1 reason Gary Hall Jr. would be great on Survivor:
Boys like him too.