Secrets and More Secrets
Looks as if I'm going to have to put a little hold on my discussion of the literary life, because the literary life has come up and bit me in the tail! I'm a bit overdue in welcoming fellow GCCer Lauren Barnholdt to the blog! Lauren is the author of the new novel for "tweens," THE SECRET IDENTITY OF DEVON DELANEY.
The Official:
Lauren Barnholdt is a twenty--six-old writer who was born and raised in Syracuse, NY. Her articles and short stories have appeared in Elements magazine, Girls Life, and on mensclick. com. Lauren is currently under
contract with Simon Pulse for her young adult novels, having set an unprecedented sale when she was signed for her first two book deal on
just three chapters and a synopsis. Her
first book for young adults, REALITY CHICK, will be released on June 27, 2006. Lauren currently teaches a popular online course called How to Write and Sell the YA Chick-lit Novel. She is also co-author of the book HOW TO WRITE AND SELL THE YA NOVEL, which will be released by Writer's Digest Books in December of 2006. Lauren now resides in Central Connecticut, and when she's not writing, she spends most of her time reading and watching lots and lots of reality TV.
What You Really Want To Know:
Hi. I'm Lauren. I tried writing this bio in third person, but it
seemed weird. I'm twenty-six. I write books. Here are some things
about me:
* My favorite reality show is Newlyweds. I know, Nick and Jessica broke
up, whatever. I still love the show.
*One time I tried out for a reality TV show, and I didn't make it.
* When I told my boyfriend I was writing a section of my website that was
"what you really want to know" he was like, I CAN WRITE IT! Um, no.
*My favorite book is CATCHER IN THE RYE.
* I say the word "scandalous" a lot. It appears all over the place in
REALITY CHICK, and my editor made me cut a lot of them.
* In real life, I am not scandalous at all.
* I have two sisters. I'm the oldest.
* My favorite drink is Diet Coke with Lime.
* My favorite color is pink.
* I love the New York Yankees. I plan on marrying Derek Jeter. As soon
as I have the chance to meet him, this plan will be put into action.
* I love college basketball. The Syracuse Orangemen are my favorite
team.
* I love pop music. I don't care if this makes me a dork. I also love
Gavin DeGraw, Vertical Horizon, Nine Days, Matchbox Twenty, Lifehouse,
and The Goo Goo Dolls.
* I refuse to dance in public, but sometimes I have dance parties in my
room, by myself, while listening to previously mentioned pop music.
Destiny's Child and Christina Aguilera are favorites.
* If you want to know anything else, you can email me and I'll probably tell you.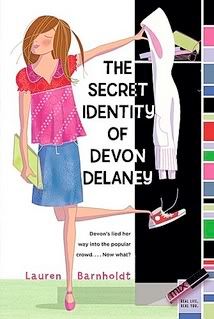 Launching the new Simon and Schuster MIX line for tweens comes THE SECRET IDENTITY OF DEVON DELANEY by Lauren Barnholdt….
Mom says karma always comes around to get you, and I guess it's true. Because last summer I was a total liar, and now, right in the middle of Mr. Pritchard's third-period math class, my whole world is about to come crashing down…..
That's because while Devon was living with her grandmother for the summer, she told her "summer friend," Lexi, that she was really popular back home and dating Jared Bentley, only the most popular guy at school. Harmless lies, right? Wrong. Not when Lexi is standing at the front of Devon's class, having just moved to Devon's town. Uh-oh.
Devon knows there's only one way to handle this -- she'll just have to become popular! But how is Devon supposed to accomplish that when she's never even talked to Jared, much less dated him?! And it seems the more Devon tries to keep up her "image," the more things go wrong. Her family thinks she's nuts, her best friend won't speak to her, and, as if it's not all complicated enough, Jared starts crushing on Lexi and Devon starts crushing on Jared's best friend, Luke. It all has Devon wondering -- who is the real Devon Delaney?
1. How did you get this idea for this book? Please describe how the book grew from a glimmer of an idea into a whole novel.
When my friends and I were in junior high, we were dating this group of guys from another school. So we made it seem like we were super popular at our school, and that all the boys wanted us. Which wasn't even close to being true. One night some of the guys we lied to played basketball against some of the boys from our school who supposedly wanted us, and I just kept thinking, God, I hope none of them talk. And that was the inspiration for THE SECRET IDENTITY OF DEVON DELANEY. Only, unlike in my situation, poor Devon's lies catch up with her.
2. Do you have any advice for aspiring authors?
Here are my top three tips for aspiring writers: 1. Don't give up. 2. Don't compare yourself to other writers – everyone's path to publication is different, and what happens to one person is not necessarily going to happen to you. Don't worry, you'll get there. 3. Enjoy the process. Sometimes it's so hard to enjoy writing when you're getting rejections or things aren't going well. But remember that you're working toward a goal, one that's worth it. And be thankful that you've found what it is you're passionate about – not everyone can say that.
3. What's your writing day like? Any tips or tricks for getting organized?
I try to get up early, because I find it's easier for me to be productive if I feel like I'm getting a jump on the day.
4. What's been the most exciting thing about publishing? The most frustrating?
The most exciting thing is definitely seeing my book on the shelves. It's definitely surreal. Also hearing from people who have read and enjoyed my books. The most frustrating is probably learning to let go of the things you can't control – the rejections, the negative reviews, etc.
5. Do you think you might write a follow-up to this book? If not, what else is in the works?
I would love to write a follow-up to Devon Delaney! Right now, though, my latest YA book, TWO-WAY STREET, will be out in June, and I'm working on a new tween book that will be out next year.
Thank you, Lauren! Please take a moment to check out Lauren's book at
Amazon,
Barnes and Noble
, or your bestest bet, the local
indy retailer
near you.