Monday=Merry Olde England and Boston and Berkeley
Hi everyone! Hope you had a GREAT weekend! Ours was fairly quiet, aside from seeing
Akeelah and the Bee
(very good movie--take the kids!) and I'm going to take a quick breather between author interviews for a real, honest-to-Mike POSTING.
I promised you my NEWS from England, and here it is. After the book had been in print for just TWO WEEKS, I learned it had sold out not just one--but TWO--printings. So, the publisher (Orion Books) has gone back to press a third time. That's just amazing news! So whoever out there is buying my book (it's now in a mass market edition, so I guess it is in grocery stores next to those fabulous curry flavored 'Crisps' that you have over there...), THANK YOU!
Also, I received from Orion both a gigantic poster featuring the book, 200-some of which are going to be plastered throughout your fair country, and some of these very cool Bitch Badges that are being used in a promotion over there! They are being distributed via Waterstone's booksellers. Notice how the font matches the font on the cover of the book.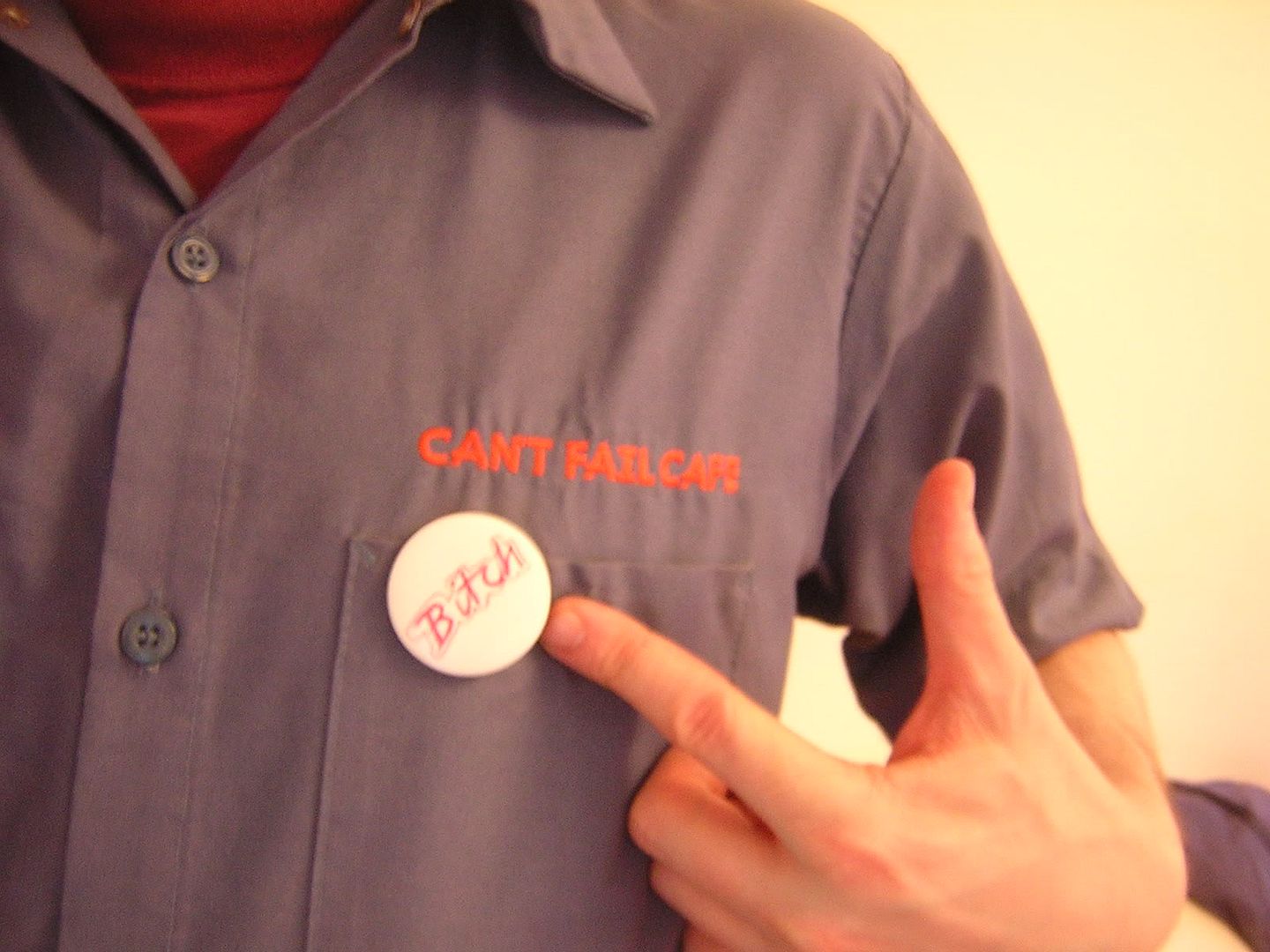 (Many thanks to the
Bookseller to the Stars
for providing the image. He also sent me a bunch of pix of the stacks of my book in his store, which were very frightening...)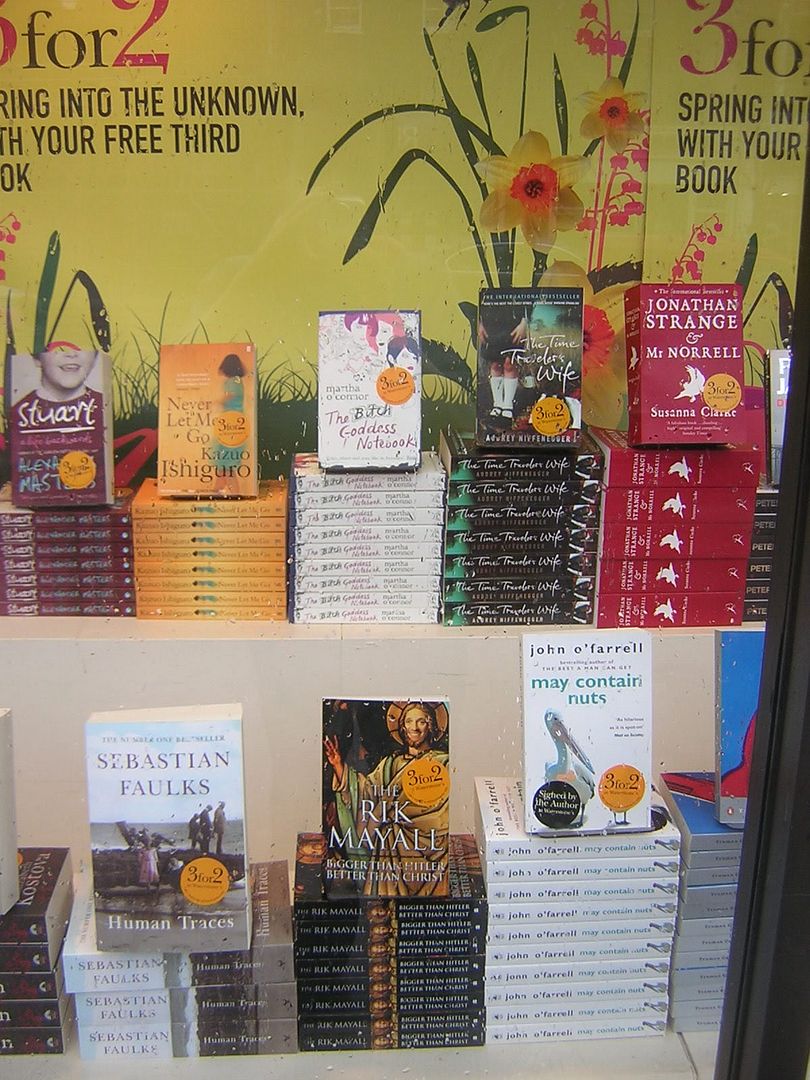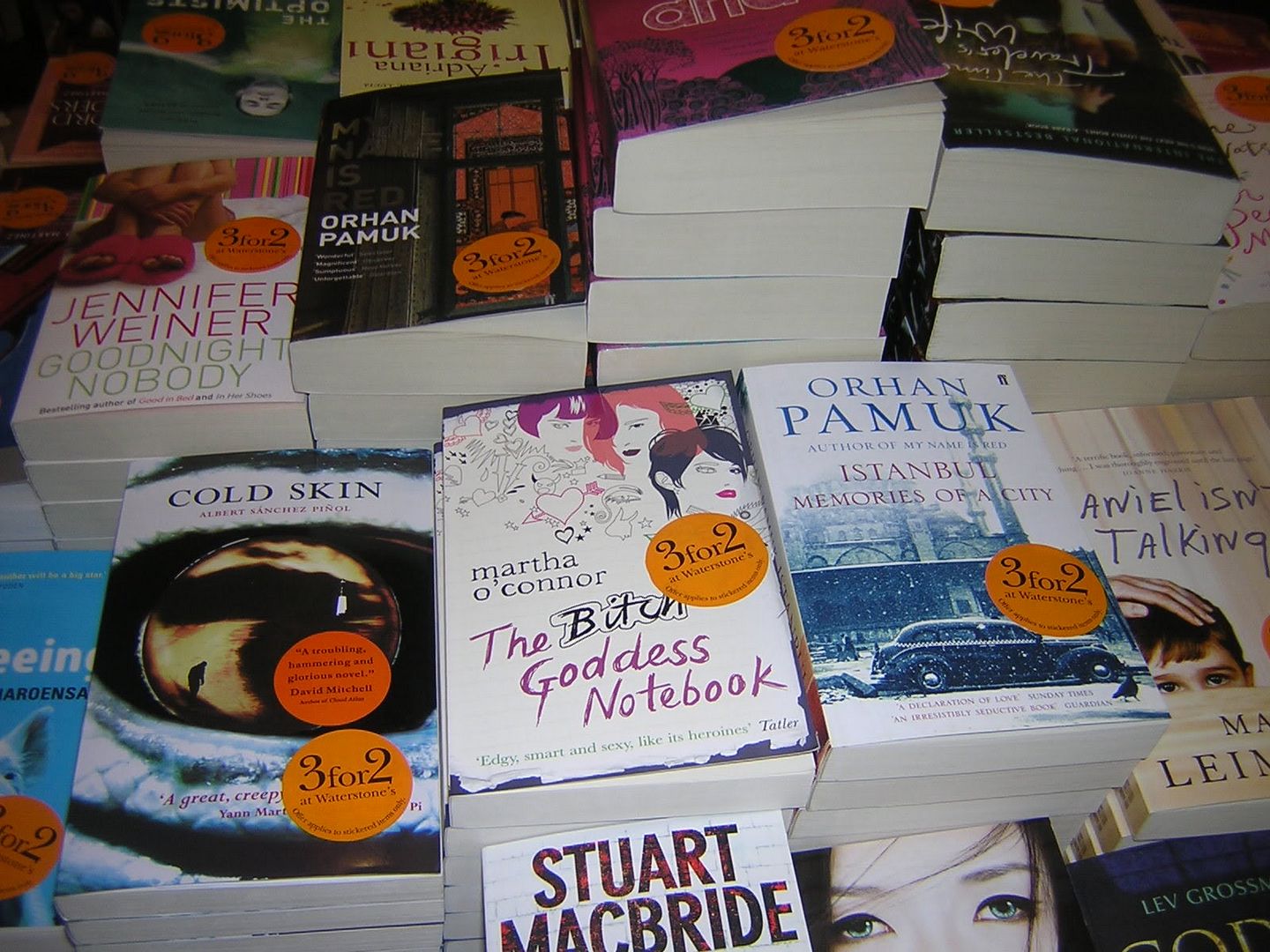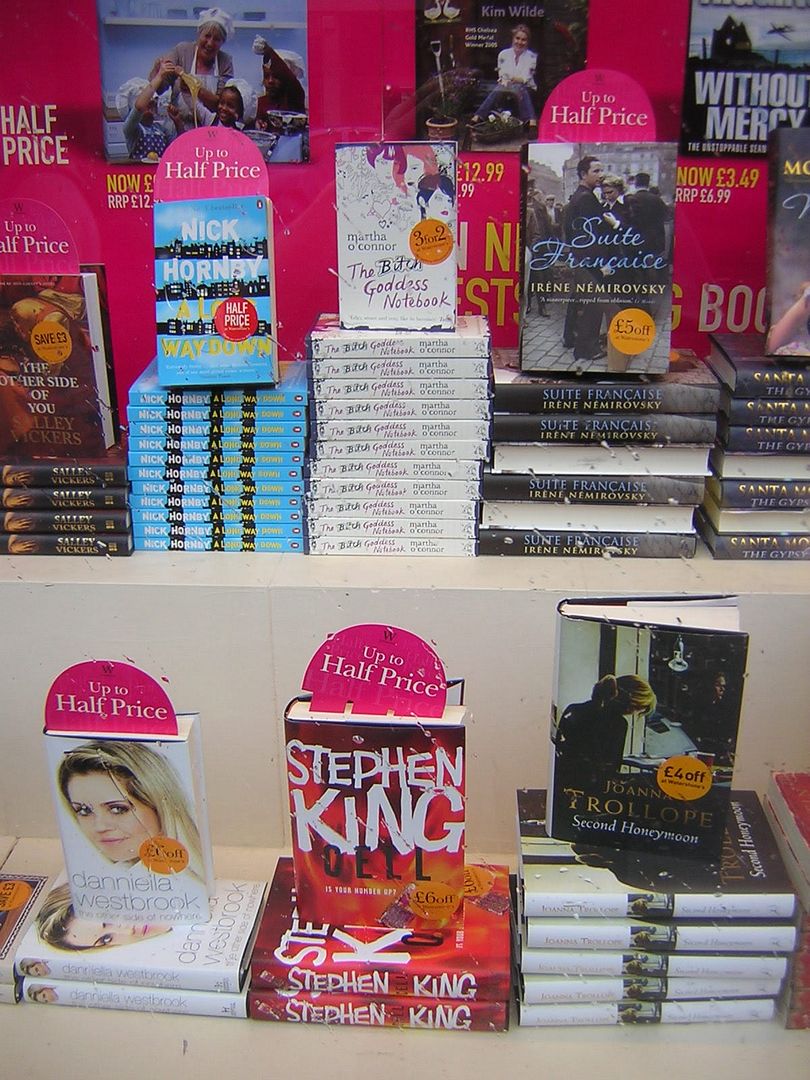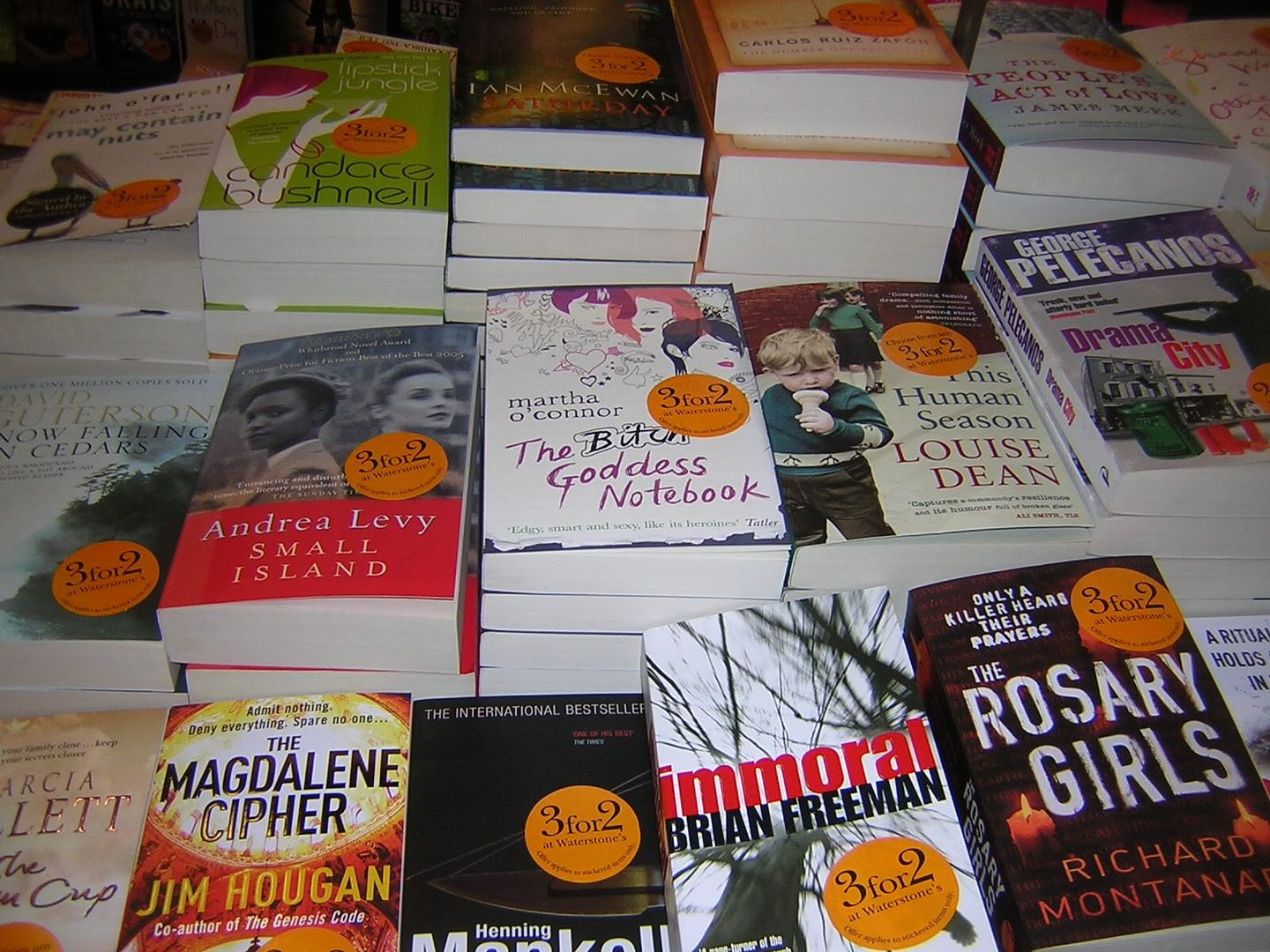 So, here's hoping some of you Englanders are stopping by your local Waterstone's and trying to get some of those stacks a little smaller... those are some scary piles of books!
And now for two great new book releases this week!
(Image is a Hotlink)
COUPON GIRL by BECKY MOTEW (Merry Olde Boston)
From the Publisher
No one can resist a little drama at work. But what happens when drama is your work? You get COUPON GIRL, a riotous debut novel that will capture the minds and hearts of the Sex and the City generation. With the charm of Carrie Bradshaw and the chutzpah of Samantha, this zany tale takes readers on an unusual ride—one filled with characters both colorful and true-to-life.
From the Back Cover
Hi, you've reached the voice mail of Jeanie Callahan. I'm auditioning right now for the lead role in the The Sound of Music. Hopefully, I am not throwing up or fainting. Oh yes, if you're a business owner and would like to offer your customers coupons, leave me a message. BEEP
"Hey, Jeanie. I can't give 25% off my donuts, so just forget it." BEEP "Hi, it's Meg—your soon-to-be-pregnant best friend. Call me!" BEEP "Just wanted to let you know that the fire department was over to get your grandfather down from the roof. Don't worry, he's okay." BEEP "My name Mike. You call." BEEP
Did you ever wish you could redeem your current life for a completely new one? Believe me, I'm right there with you. And if I've learned anything from selling coupons, it's this: 10% off won't cut it. You have to go big. Large. Whole hog. I say it to my customers every day. I just never knew taking my own advice would prove so difficult. …
Check out this terrifically funny new novel. You won't be sorry! Becky is an Internet friend of mine from waaaaay back.
And the next new release:
A FIELD OF DARKNESS by CORNELIA READ! (Merry Olde Berkeley)
(Image is a Hotlink)
Book Description
Madeline Dare isn't your average detective. Born into a blue-blood family, she followed her heart to marry ruggedly handsome Dean, a farmboy-genius inventor who's as far from high society as humanly possible. Now Maddie's stuck in the post-industrial wasteland of Syracuse, New York, while her husband spends weeks on the road perfecting the railway equipment innovation that might be their only chance to escape. She can handle churning out lightweight features for the local paper--it's the Dean-less nights in their dingy, WASP-castoff-crammed apartment that Maddie can't stomach. Obsession trumps angst when a set of long-buried dog tags link her favorite cousin to the scene of a vicious double homicide. Drawn by the desire to clear her cousin's name, Maddie uncovers a startling web of intrigue and family secrets that could prove even more deadly.
STARRED Booklist, STARRED Kirkus, Booklist TOP TEN of the YEAR--this book is a winner.
Check 'em both out!